With this guide developed by the Carving Social Club, we intend to help you make choosing your next surfskate as easy as possible; In it , we answer the most frequently asked questions that you usually ask us, and we add our point of view, based on our long years of experience, daily related to surfing and surfskate.
The good choice of your surfskate will directly influence your evolution, just as it happens with surfboards. Remember our post When should I take the step to the fiber table? , where we just explain this process.
The optimal thing in the long run, as in surfing, is to have several boards and use one or the other depending on the moment or the conditions . And so, having a very stable one for long runs, doing skate tricks, and one with a tighter turning angle to train surf maneuvers, warm up before entering the water or flow in the bowl .
And if you are one of those who prefers to have a single table, the best thing is that you hit the first one with the one that best suits you and is closest to your current needs. We already told you that the boards with adjustable internal spring can benefit you, since in addition to being the ones that offer the most surfing sensations, they offer you the opportunity to have a two in one, that is, by tightening the spring well you will have a very stable board, and by loosening it you will be able to make tighter turns, more surfing .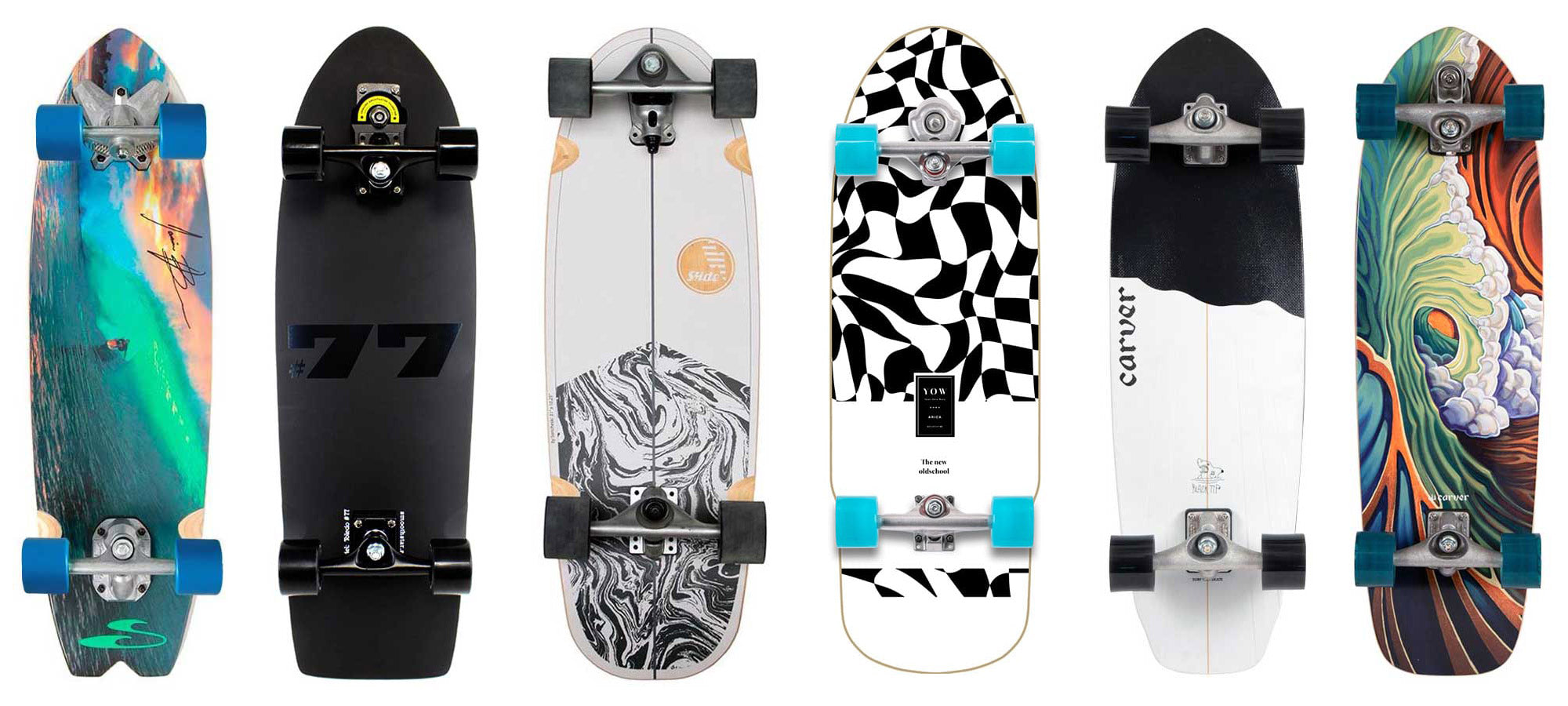 With so many makes and models, we know it can be hard to get it right; For this reason, we have prepared this easy guide so that you can choose your next surfskate without fail .
There are several factors that come into play:
1. WHAT LENGTH OF BOARD AND WHEELBASE ACCORDING TO MY HEIGHT?
Here we will try to explain the relationship between the length of the table and its performance, as well as the influence of the wheelbase (distance between axles).
a) To guide you with the length of the table , we have prepared this chart so you can quickly and easily identify which surfskate would suit you based on your height and weight. They are approximate measurements, it is not an exact science, but they can help you understand more or less what you should be looking for.
Then in the Surfskates section of our Online Store you can search for boards by size and it will be easier for you to choose. For example here you would see those from 30" to 32" (inches), which are usually the most standard, you only have to select your recommended measurements from the filters that you will find in the drop-down if you are doing it from your mobile, or on the left of your screen if you are on a computer.

Knowing the length of the recommended board for you, you could already opt for one surfskate or another, but if you know your skills well and you are clear about where you will use it, you could start playing with a couple more pieces of information to refine the search even more. They work the same as with the surfboard, so if you already surf they will be very familiar to you: stability , radicality, speed and acceleration .
The longer the board, the more stability it will offer you, while small boards tend to be more "nervous". Of course, for a tall person of 1.85m, a 32" table, for example, can be nervous, while a short person, 1.45m, the same table can be very stable.
Likewise, with a larger board, the turns and pumping are wider, more like a water longboard feeling , which makes it less radical ; while with smaller boards you will be able to make tighter turns, (although the type of axis also comes into play here, which we will see later). Then, If, for example, you are 1.75m tall, and we recommend 32" to 34" boards in the table above, but you usually surf with a longboard in the water and you like classic surfing, you can opt for a longer board to seek the same sensations than in water.
With regard to speed , with a long board with two pumps it will be easier for you to get from point A to point B, while with a smaller board the speed is lower and it will cost you more effort to complete the same route.
Finally, on the subject of acceleration , with a small board it will be much easier to get going than with a larger one that will cost you at the beginning to generate that inertia.
In the following graph you can understand it quickly and easily.

b) The wheelbase , is the distance between the axles, and it is another piece of information that you also have to take into account when choosing your surfskate, since there may be boards of the same size but with the axles placed at different distances, and this can affect the its performance when used.
The wheelbase works the same as with the size of the table, the more distance between axles, the more open turns and more stability, and the less distance, the more explosiveness and radicality. In order to better train your surfing , it is important that the wheelbase of the board you select is not less than the distance between your feet when you are surfing.
We recommend doing these two little exercises at home to try and figure out what size deck and wheelbase would work for you:
1) stretch a tape measure on the ground with the highest value that we recommend in the first box, (34" for example, if we recommend 32"-34" boards), stand on it to get a "virtual idea" of the size of the table , and thus understand if the time is comfortable for you, or if, on the contrary, the time is very large.
2) with the same tape measure placed on the floor, separate your feet a little more than the width of your shoulders and measure the distance between them (as it appears in the image below), that would be an ideal wheelbase for you if What you are looking for is to train your surfing .
Combining these two pieces of information, you will already know which table length you would feel comfortable with, what approximate wheelbase you should look for, and you would already have a lot of progress.
In the "technical specifications" tab of each page of each surfskate model in our Online Store These two data appear.
2. WHICH TURN SYSTEM, AXIS OR BRAND?
Here we describe a list of the different front axles, or turning systems, of the surfskate brands that you will find in our Online Store , you can then easily search for them using the filters that we have in each collection.
a) Carver Skateboards CX truck : it is very simple, it does not have an internal spring, and it is ideal for those who are looking for stability in a surfskate, either because they come from the world of skateboarding or traditional longboarding, people who are starting out, people who have never surfed or skated before, or for those who just want the surfskate for riding or having fun. It is the most stable axis we have on our website.
It is an inverted Kingpin axle , without spring , very light, to which you can only regulate the pressure of the rubbers ( bushes ), tightening or loosening the nut that we show in the image. And thanks to its simplicity, it requires little or no maintenance, since it has almost no sensitive parts that can be damaged.
As with any surfskate truck you will be able to generate speed with your body, without the need to give the typical kick of traditional skateboarding, and you will be able to make surf turns but with a very wide angle, more like a water longboard sensation.
b) Carver Skateboards C7 truck : it is Carver's most popular, it does have an internal adjustable compression spring, and it already offers more surfing sensations , the pumping is smoother and the turning angle is tighter than the CX.
Being able to be easily adjusted through the nut that we show in the image, it would be almost like having 2 trucks in 1 , since if you tighten it you have a very stable table like the CX, and if you loosen it, a truck that will allow you to make tighter turns. . In addition, you can adjust it a little more to your liking by tightening or loosening the bushing nut.
It is already a more sophisticated shaft that could require a little more maintenance, since it has more parts that are sensitive to damage (such as the spring itself, for example), but they are damaged very little, and their useful life is very long. All parts are very easy to replace, and you can find them in the spare parts section of our Online Store.
It is ideal for people who have already done some surfing, or those who are looking for a stable but surfing sensation.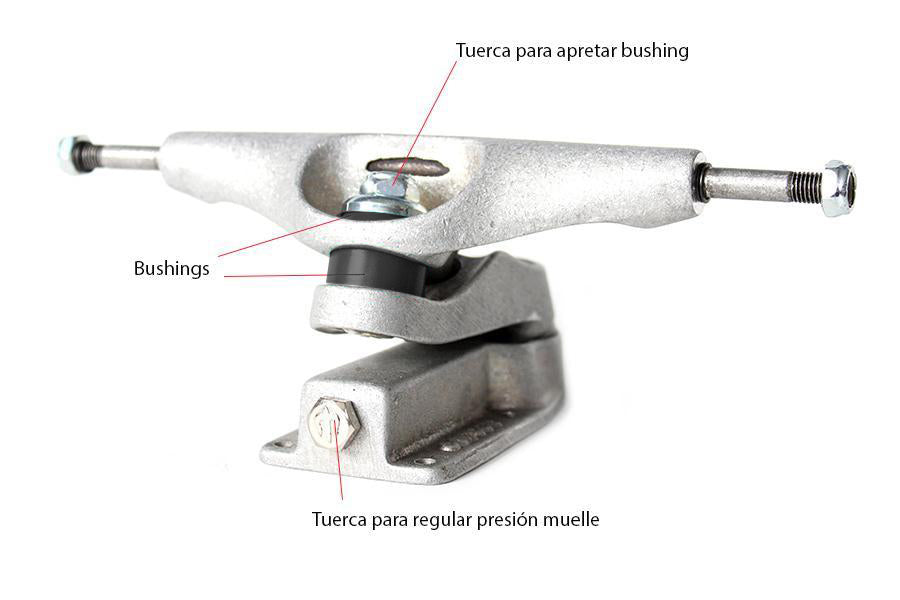 c) Slide Surfskates 3.0 Truck : Slide, unlike Carver, only has one front truck, which is the one that all their board models have. It is an axis that they have optimized over the years, and today it offers incredible sensations , very surfing . Having an internal compression spring, it would be comparable in build and feel to the Carver Skateboards C7.
In the same way, we have all the spare parts in our Online Store, and we offer a two-year Warranty for any manufacturing defect.
It is also a 2 in 1, thanks to the internal spring, which you can easily adjust the front axle , you just have to rotate the nut shown in the image. Which will allow you to keep it tight for daily use, and loosen it more when you want to train your surfing .
It is ideal as a first board for someone who wants to start surfskate, or for those more advanced surfers who are looking for a cheaper surfskate.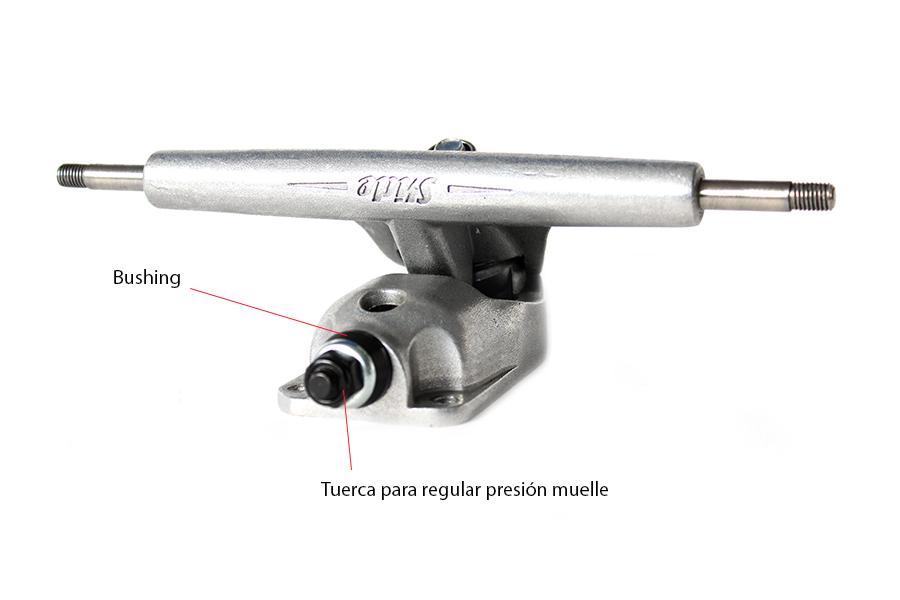 d) Smoothstar's Thruster turning system - preferred by surfers of all levels. It allows very tight turns, ideal for training cutbacks, and emulates surfing almost perfectly.
The Smoothstar thruster is a turning system that has an internal compression spring , and where a conventional skateboard truck is attached. The spring can be tightened or loosened in a simple way with a key that all models bring, inserting it into the slot of the nut that we show you in the image. Thus, you will be able to regulate your surfskate according to the use you are going to give it (ride or training) , or as your level evolves . In addition, you can also regulate the pressure of the bushings .
The sensations when generating speed (pumping), are very soft, very smooth , very similar to when we are riding a wave . It is one of the axles that rotates the most, and thanks to the fact that it can be adjusted, it is ideal for all levels, you simply adjust it as you progress and feel comfortable.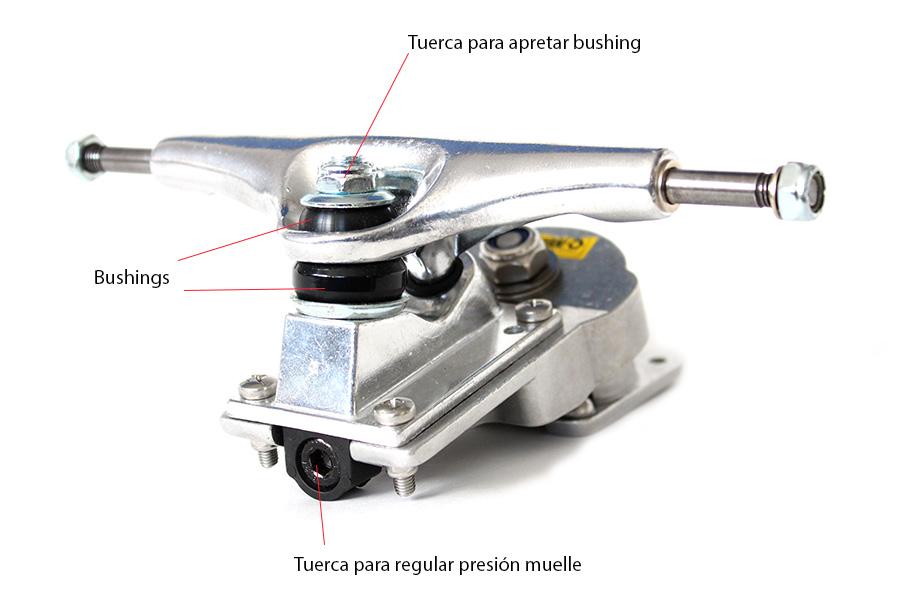 e) YOW Surfskates Meraki Truck : After several years of development, trial, trial and error, the guys at YOW bring us this new truck. A very surfy truck that turns more than a Carver with a C7 truck, and offers similar sensations to Smoothstar.
With this new axle they have simplified the turning system that they previously had in a single piece, achieving a lighter, more robust axle, but with the same sensations as before.
For the Meraki they have opted for their thickest spring , the 5mm ( S5 ), now they all come with that. A resistant torsion spring, with the only drawback that it does not allow adjustments or regulation. Yes, you can adjust the sensations of your surfskate a little by loosening or tightening the nut of the bushings .
A very good option for surfers with some level, and most importantly, it is national production ( Spain ).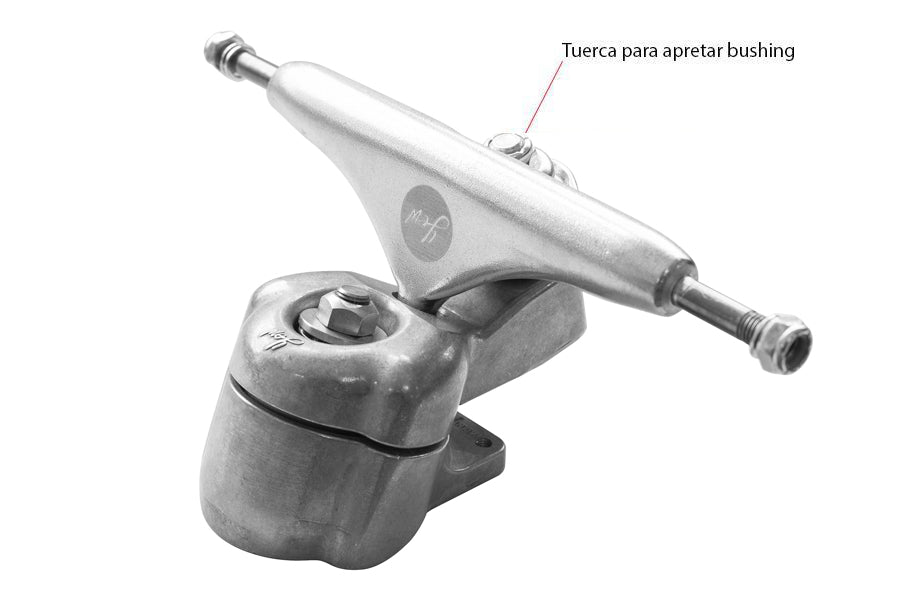 f) SwellTech Surfskates axis : it is the that offers the largest turning angle on the market, turning up to 360º, and pivoting 60º from edge to edge . The learning curve is a bit slower, it's a bit hard at first, but once you get the hang of it it's a lot of fun and very surfy feeling.
Since its launch, several modifications have been made to it looking for more stability, and even so, it is still the one that transmits the most instability sensation at first , and once you get used to it, it is not so unstable.
Despite having both internal and external springs, none of them can be adjusted so you have to gradually adapt to the surfskate.
It is ideal for people who are very experienced in both surfing and surfskate who want to try new sensations and go a little further.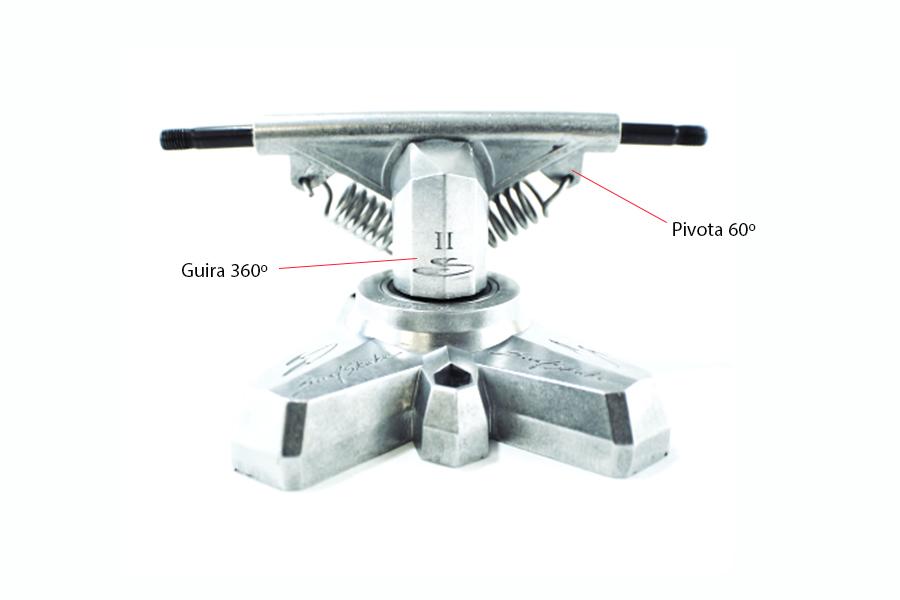 3. WHAT TYPE OF WHEEL WILL SUIT ME BEST?
The variants that come into play around the wheels of a surfskate are: size , hardness and shape .
Regarding its size , in the world of surfskate, wheels usually range from 58mm (the smallest), to 75mm. Size basically influences grip , acceleration and speed . As a general rule, on a rough surface ( asphalt ), the bigger the wheel, the more grip it will offer you, it will give you a lot of stability when generating speed, confidence when making very tight turns and your feet will notice less the imperfections of the ground; in terms of acceleration they are slower, but once you get good inertia and a good rhythm they reach more speed than the smaller wheels. The larger wheels are ideal for long rides and for training surf turns without the surfskate skidding.
If you will use your surfskate more on smooth surfaces , such as a skatepark, smaller wheels will be better for you, since on this type of ground the smaller ones generate more speed; On the other hand, on rough floors you will notice more damage and it will cost you more to get from point A to point B. Bearing this in mind, depending on the use you are going to give it, search our website for surfskates that have larger or smaller wheels. . In the "technical specifications" tab of each surfskate model you will find this information.
In the following graph you can visualize this information more easily.

The other data to take into account is the hardness of the wheels, this is measured on the Shore type "a" durometer scale, and on our website you will find them from 78a the softest and most common, to 90a the hardest.
As with the size of the wheels, the type of ground where the surfskate is going to be used will influence, thus, softer wheels in contact with a rough surface are faster, offer more grip in tight turns, and absorb better. ground damage, while on smooth surfaces like the skatepark they are slower. The hardest ones, for example in the skatepark, go very well, very fast, but you notice more imperfections when going on rough floors and you could easily skid in turns without looking for it.

With regard to the shape of the wheel, we will find three different types of surfskates available in our Online Store : square , beveled or round edge. The most common are the first two.
Square-edged wheels are the ones that end at a right angle, so they offer more grip and resistance, making them the most stable. They are ideal for exerting more power in turns and maneuvers without losing grip; As they have more contact surface with the ground, they support more load from the vibrations of the asphalt and are appreciated on long journeys, so they are the best for moving around the city.
Beveled edge wheels , end with an angular cut which helps you to gain angle of rotation, acceleration and facilitate skidding. They are ideal for short distances since they do not generate as much speed, for training in small places and skateparks. They are less stable than those with a square edge.
Those with rounded edges are usually smaller and harder, designed for children, skateparks or freestyle skate. In our Online Store you will get different surfskates with each of these three types of wheels, you will quickly appreciate it in the photos, and you can get advice with the information that you will find in the "technical specifications" tab of each one.

4. DOES THE SHAPE OF THE TABLE INFLUENCE?
While in a surfboard the shape plays a determining role and the sensations vary a lot from one to another, in the surfskate it does not influence the performance of the board.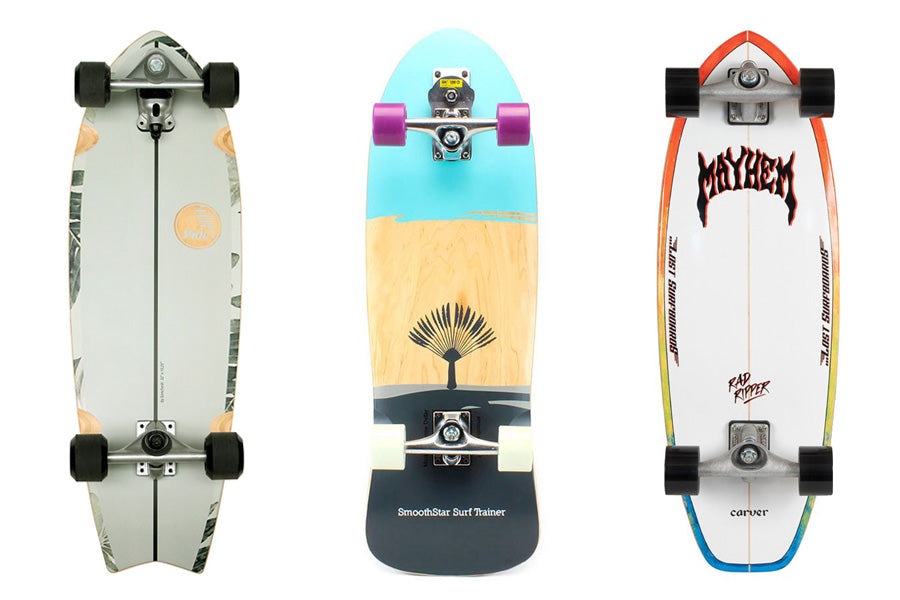 A fish tail or diamond tail on the surfskate is simply aesthetic , as it is designed to give it that surfer spirit.
The things you should keep in mind when choosing your surfskate regarding the shape is that the wider the area where you place your feet, both in the tail and in the front, the more comfortable they will be and the more stability you will have. they will provide. So if you are starting you may be interested in wide boards, you will also find this information in the "technical specifications" tab of each model in our Surfskates section.
And finally, if you plan to throw yourself off the coping (curb) of the skatepark, you will be interested in a board with a good tail that allows you to support yourself well, gives you stability, and that does not slip. In this sense, the squarer and wider the tail, the better.
5. DOES IT INFLUENCE MY SURFING STYLE?
Yes, your surfing style is something you should consider when choosing your surfskate. How is your surfing: explosive, radical, modern, or are you more of classic surfing, drawing lines, flowing?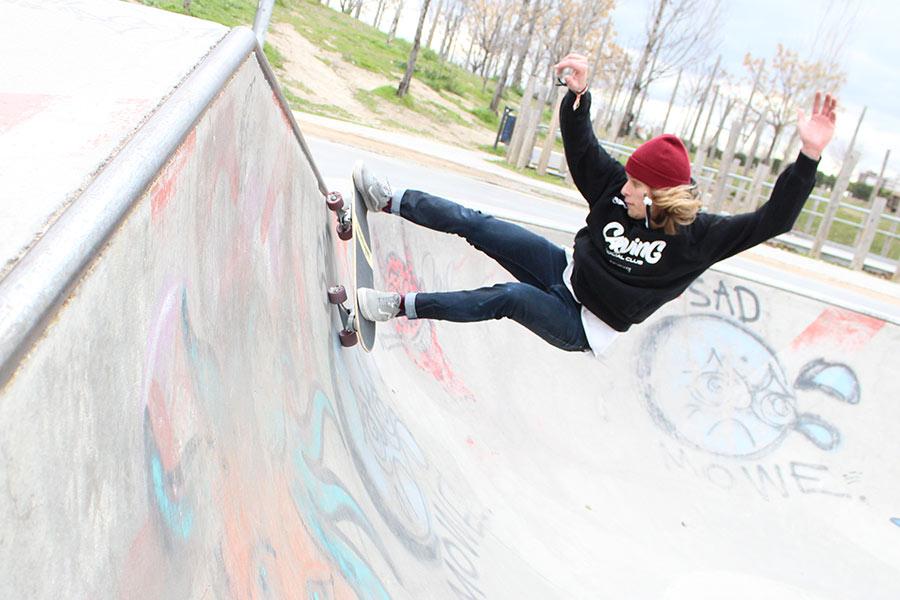 If you are more of an explosive surfer, short boards will be better for you (always try to respect the minimum distance between your legs that we recommend in the first section), and trucks or turning systems with a tighter turning angle.
For example, if a person is 1.75m tall and likes explosive surfing, for example, the 33" Holy Toledo from Smoothstar would be a luxury.
If, on the other hand, you are more into classic surfing and single fin, we recommend long boards , with which you will be able to draw wider lines and get more sensations of water longboard .
For example, using the same case of someone who measures 1.75m, to have those sensations, the Spatial 35" from Slide Surfskates would be very good for him.
6. DOES MY WEIGHT INFLUENCE?
From our experience, it is not a very important factor that you should take into account.
Surfskate boards are usually boards between 6 and 7 sheets of robust wood, with little flex and very little chance of breaking. We consider that it is not a fact that you should give too much importance to , except in the case of children or people over 120 kg; in the first case, it will be easier for them to move small boards of 28 inches or less and, in the second, they will feel more comfortable with boards of more than 35 inches and a more stable axle.
Otherwise, we recommend that you follow the first table in point 1, and look for a table that suits your weight and height. If the data does not match because your weight is higher or lower than indicated, give more importance to your height.
7. WHAT IS MY BUDGET?
If you have already answered the other questions in the guide and you already have it more or less clear, you only have to define your budget, the last factor that will decide your purchase.
To make your choice easier, we have divided the surfskates into two groups: high -end ( more than 200 euros ) and mid- range ( less than 200 euros ).
In the high range , we have:
a) Carver Skateboards : They owe their high price to several factors, the main one being that they are made and assembled entirely in the United States with top quality materials; they also have the plus of antiquity to be the first surfskate brand to hit the market, the precursors; and lastly because they have among their riders professional surfers of the stature of Courtney Conlogue , Taylor Knox and Yago Dora among others, all of this we imagine makes the price of the product more expensive.
b) Smoothstar : It is the second brand that came onto the market, so we imagine that its long journey has been increasing the price; They are made in Taiwan; and they also have professional surfers such as Filipe Toledo and Johanne Defay who will cost the brand large outlays.
c) SwellTech Surfskates : this brand, despite being younger than the previous two, is also among the high-end, coincidentally they also have a top surfer as their image, in this case he is a free surfer, but very controversial and very known Jamie O'Brien .
d) YOW Surskates : another young brand, but one that has come out with a lot of force. It is manufactured in Spain, and by having all the machinery in its facilities, they have been able to evolve very quickly, any damage they detect is solved immediately and the process has required a lot of research and development.
Due to all these processes and because they also have renowned surfers such as Aritz Aranburu , they fall into the high-end section.
And in the mid- range we have:
a) Slide Surfskates : despite also having been on the market for almost 20 years, it is a brand that is made in China and also does not have any professional surfers among its ranks, these two aspects allow it to stay well priced. EYE! The quality is good, clearly lower than Carver for example, but it's not "All 100" come on.
b) Triton by Carver : it is the white brand of Carver Skateboards, they use the same CX trucks, (except the two smaller models that use the C5), and the high-end Roundhouse wheels, only that the board is made in China and they don't have any pro surfers either. With these two aspects they have managed to place this young brand within the mid-range surfskates.
Think that you buy a surfboard for the days when there are no waves , one more board for your quiver . And remember that if you can have several, it would be excellent; if not, try to refine the one that best suits your current needs and gradually move forward.
Health!